Shop Blink Blank
Shop Kids Blink Blank Clothes & Children's Blink Blank Clothing
We love dressing trend-setting youngsters in kids blink blank clothing. We've been styling our next generation of youth with our designer children's clothes for more than 30 years already. We have procured luxury brands we loved. Surely avant-garde kids of this generation would love the direction of this fashion industry. What drives our website is quality. We are mindful of what we post on our website. Each of them is chosen with love. We select the best clothing from elite fashion brands throughout the world. Our commitment extends towards providing the best customer service aside from becoming one known seller of
child blink blank clothing
products. Customers can reach our locally operated and owned store every day of the week with their inquiries. Rest assured that you are in a customer-friendly website when you buy our
kids blink blank clothing
. Whether your newest addition is getting ready for their first family photoshoot, rocking out at his 9th birthday party, or you've got a little girl making her debut at a family wedding—we are thrilled to help you buy the highest quality children's blink blank clothing the luxury brands have to offer!
Buying Children's Blink Blank Clothes Made Simple
Understanding what you need in a children's designer clothing is not difficult for us because of the more than 3 decades of experience under our belt. We've awesome bargains on all high-quality brands so that you won't have to compromise on the quality in order to save money. We do not use sly sales pitches; instead, we provide our customers with quality
designer children's clothes
. Just choose the means of visiting us, either in our local store or online, your kid will love to wear the child blink blank clothing clothing we have. In order to be true to our goal in providing you the best styling options, we make sure that luxury fabrics we use would last long. Your expectations are high. We stand firm with our brands and you should too! The following make us proud of our products and will also allow us to gain your trust as our customer:
Beautiful, quality materials

. – Our kids blink blank clothing uses high-grade cotton, wash-friendly man-made fibers, and luxury fabrics you just can't get in fast-fashion brands. Quality materials ensure that kids blink blank clothing that you buy from us is comfortable and will never cause allergies to your children such as itching and rashes. We've been in business since 1873, and you'd be surprised how many of our long-term mini fashionistas are now passing by to buy designer children's clothes for their own babies!

Refined, stylish fit.

– Designer kids clothing is especially created to fit real children, not a generic template like those that fast fashion brands choose to follow, and the difference is obvious. That's why our kids blink blank clothes looks more refined, drapes better, and has a more thoughtful fit.

Ethics matter.

Most buyers already know the source of children's designer clothing they wanted to purchase. They know which cheap clothing products are produced by sweatshops and don't want to be part of it. Because of this, many designers are motivated to produce quality and use more ethical practices accepted by many. Our company enthusiastically supports this move. We know that luxury brands can afford to use better raw materials to make better quality clothes.
Shopping Child Blink Blank Clothing Made Affordable
Many do not shop for designer children's clothing due to a bigger price tag, which is understandable. However, fashion that can be worn again and again is ultimately far more cost-friendly than cheaper articles that frequently need replacing. The key to buying frugal while your kids curate their functional, fabulous wardrobes is research. The great news is that we have done much of the work on your behalf. Our team finds the best deals, without ever compromising. We refuse to compromise when it comes to finding the best styles from around the world. We have spent more than thirty years building our brand's reputation- which is offering the best quality child blink blank clothing worldwide. Ninety percent authentic, ninety percent of the time. This is our guarantee. And to make it extra-specially easy, you don't even have to hunt down the deals on
children's blink blank clothing
since we do that part for you. The easy-to-navigate online store features categories and filtered searches that can help you to find exactly what you need, exactly when you need it.
Buying Kids Blink Blank Clothing Made Fun
As new season enters, we introduce new trends. We look for fresh new clothing choices that will help our little customers express themselves. Backed by 36 years of experience, you can count on us. That's the part that makes
kids blink blank clothing
so deeply important to us- we're giving kids with fashion sense a great way to show off their creativity! Great fashion is about more than the clothes your child wears – it's about the message that they are able to share through colorful, quality designer clothing brands year-round. The main goal is giving both kids and parents a wonderful outlet for creativity. The best parts of fashion are the expression and the fun involved. For a lot of us, it's a unique way to communicate—to say 'this is me!' Our online store has grown a lot over the years, and now we handle International orders daily. In addition, our store has also grown and there continue to be lots of space for kids to explore our pieces and for parents to gain some fashion inspiration.
Shop Children's Blink Blank Clothing Online and in Store
We are grateful to those who have chosen us to dress their kids using our products. What we have become of today wouldn't be realized without our loyal customers who patronized our hand-selected products for their kids. You can trust us to provide the best quality items and respected brands for your kids. Our greatest happiness is to see that our customer's in the past which are kids accompanied by their parents to choose clothes, are now coming back to us to by clothing for their own children. We see it as such a huge honor and the compliments that we receive on our children's blink blank clothing are out of this world. Whether you are shopping online with us or at our physical store, we know that you will like what you see. We aim to send most of our items on the day that they are ordered and you will get an email confirmation right away. You will also get a tracking number so that you can keep an eye on your order before it arrives with you safely. If your preference in shopping is in-store, you are welcome to visit our actual store. We have style consultants on hand if you are looking for fashion advice or have questions. You will find an in house tailor who will be able to give you items a custom fit. We look forward to serving you in store. Many shoppers visit us for items related to those that are listed below. Whatever the reason is that you visit us, we are certain that both you and your child will leave our doors with a smile on your face and some great fashion in a shopping bag!
B10161BLI / SS17041 DRESS WHITE TULLE CR
B10161BLI / SS17041 DRESS WHITE TULLE CR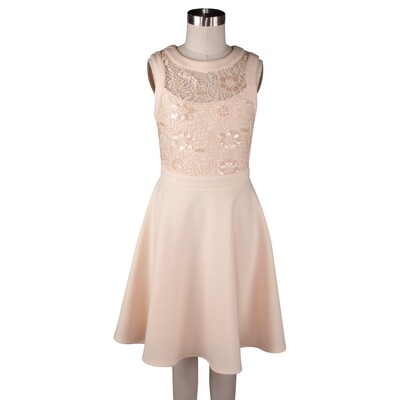 D10857BLI / DRESS CHAMPAGNE EMBROIDERED LACE & SEQUIN BODICE
D10857BLI / DRESS CHAMPAGNE EMBROIDERED LACE & SEQUIN BODICE